The positive impact of Machine Learning on businesses is well established. However, it is expanding beyond the understood levels of efficiency and adaptivity with unparalleled speed. ML discovers and captures patterns among disparate fields and unique data sets at a speed that sets it apart, and that has swept diverse industries with overnight change.
Major companies like Google and Microsoft are increasingly incorporating machine learning into their tools and platform services to stay competitive. These kinds of industrial changes "represent an entirely new computational platform; pervasive, ambient artificial intelligence," says New York Times staff writer and author of "The Great A.I. Awakening," Gideon Lewis-Kraus. And for the estimated 150,000 Salesforce users worldwide, machine learning is also revolutionizing how data is managed.
Industry-wide Benefits to Applying Machine Learning
I recently wrote about the rapid changes possible through machine learning in an article on Medium for the Salesforce AppExchange. "How Machine Learning Can Bring Overnight Change to Businesses" explains these changes through the lens of those industries currently benefiting the most. ML's speed brings an unprecedented amount of development not only to the world of technology, but to businesses everywhere.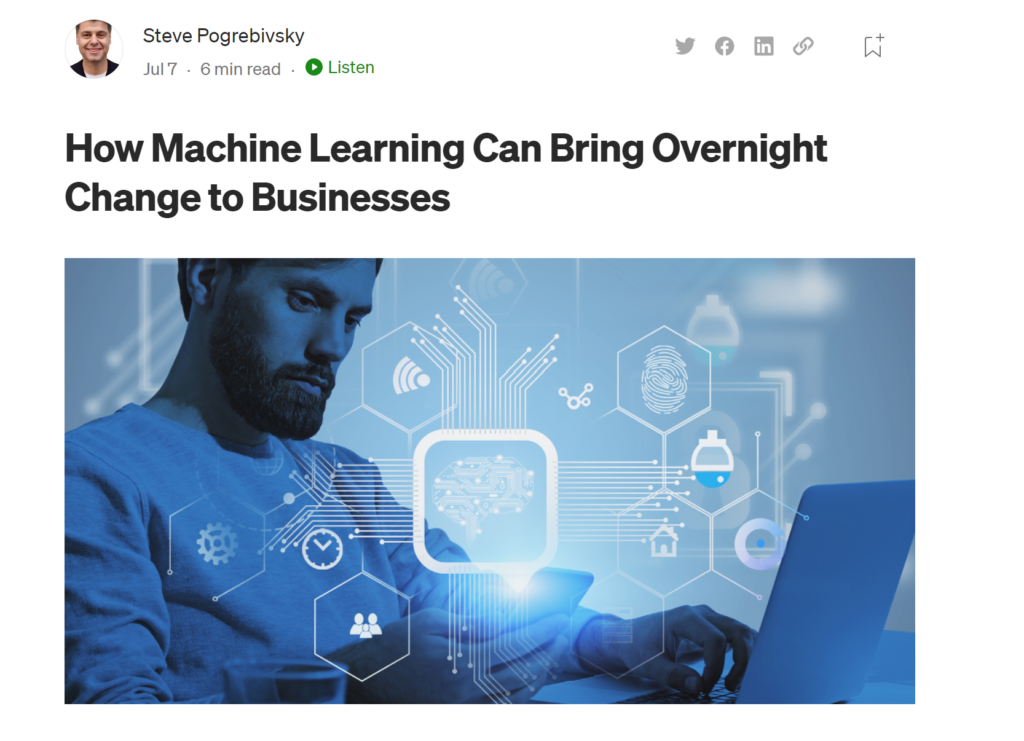 These businesses are embracing and capitalizing on the swift approach of machine learning-driven innovation. With a new behavioral world of Meta and virtual reality, we face a future of enriched customer experience and hands-on user impact. Salesforce has produced its own innovations in the customer relationship management (CRM) industry with even easier-to-use programs and ML-driven applications.
Bad data finding its way into your organization is inevitable. It is estimated that 2.5 quintillion bytes of data are created every day, with corporate data growing 40% per year. When attempts at bad data prevention are so clearly futile, businesses must turn to innovative data cleaning and management methods to stay ahead of bad data. This is where machine learning comes in.
It is never too late to incorporate ML into your business processes. No matter the industry, the impact on performance and profit will quickly come into view, perhaps even overnight. Some industries currently reaping the benefits include customer relationship management, business processes and intelligence, fraud detection, and medical research and diagnosis.
Businesses Get On Board with ML
Machine learning aids CRM with software like Salesforce Einstein to predict customer behavior, automate decision-making, and tailor product development or marketing initiatives based on customer data, among other capabilities. Industries from banking and finance to smart energy and telecommunications use ML to improve analytics and gain a better overall understanding of their business processes. Companies get ahead of fraud detection with machine learning that improves detection of phishing and prevents theft and transaction inaccuracies. Researchers and clinicians in the medical field use ML for diagnoses and successful drug repurposing.
As we can see, companies and industries across the board are folding machine learning into their daily processes and witnessing the unmatched results. Soon enough, we may see ML being applied in ways that we never thought possible.
DataGroomr has already envisioned innovative ways to deduplicate data in Salesforce with machine learning and will continue to improve on how businesses manage their data. To learn more, please request a demo or get started with a free trial today.